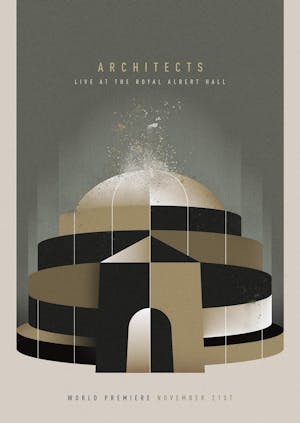 Architects - Livestream show
,
ARCHITECTS performing a live streaming show from The Royal Albert Hall Nov 21 - 8pm GMT, 4pm EDT (rebroadcast for 72 hours)
show at 4pm EDT / 8pm GMT, available for rebroadcast for 72 hours
Tickets on sale now here: http://veeps.events/Architects_SS
A portion of the proceeds from ticket sales using our link benefits spectrasonic!
ARCHITECTS will be performing a live streaming show from the historic Royal Albert Hall on November the 21st via Veeps.
The band will be releasing their ninth studio record 'For Those That Wish To Exist' on 26th February via Epitaph. The self-produced record arrives as the follow-up to the band's critically acclaimed 2018 release 'Holy Hell', which took a look at the pain and despair that lay at the heart of losing a brother, band mate and best friend in Tom Searle, the group's founding guitarist.
The band has shared the first glimpse at the forthcoming record with the release of the first single, "Animals.", which has amassed over half a million views in 2 days. The track was also given its first radio play on Annie Mac's Radio 1 show.
Venue Information: