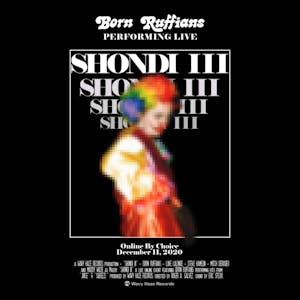 Born Ruffians - Shondi Festoon 3 - Livestream show
,
Born Ruffians bring their 3rd annual holiday party to your house - Dec 11 at 9pm
show starts at 9pm EDT
tickets on sale now at: https://go.seated.com/events/40b2ce1e-ab1b-4145-93b4-bd145208d7c9?a=Eo4RxP4E
A portion of the proceeds from ticket sales using our link benefits spectrasonic!
What is Shondi Festoon? Well OBVIOUSLY it is everybody's favourite and very real and not made up winter holiday, inclusive to anyone and everyone who believes. It's a way to bring people together to celebrate a non-denominational occasion where you still get to participate in traditions that don't make sense. But you still have to be good year round or else the Shondi Clown will come for a visit! Happy Shondi!
Venue Information: