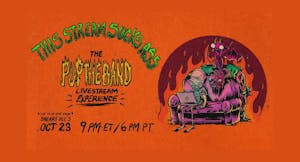 PUP - This Stream Sucks Ass - Rebroadcast
,
$16.38
Sales Ended
On noonchorus.com
PUP live from Sneaky Dee's - Oct 23 at 9pm
still available for rebroadcast
Tickets on sale now here: https://noonchorus.com/spectrasonic-presents-pup/
A portion of the proceeds from ticket sales using our link benefits spectrasonic!
To celebrate our 'This Place Sucks Ass' EP release, we are doing our FIRST EVER LIVESTREAM SHOW. It will be broadcast live from Sneaky Dee's in Toronto, the little dirt-hole rock bar that we played 1,000 times when we were getting started.
What can you expect from the livestream? Like most regular PUP shows, it'll probably be a bit of a trainwreck, which is really all part of the magic. We don't know if it'll be any good, but we do promise it will be weird and different from any livestream you've ever seen. You don't wanna miss it. It's being directed by our pal (and 5th member of PUP) Jeremy Schaulin-Rioux, who has also directed almost all of our music videos. It will be fun and unhinged and entirely unprofessional. Am I selling it? I think I'm selling it.
'This Place Sucks Ass' EP will be out on 10/23. Pre-order it along with exclusive merch before the world ends! http://thisstoresucksass.com
New song "Rot" out now. Listen here: http://thisplacesucksass.com
Venue Information: