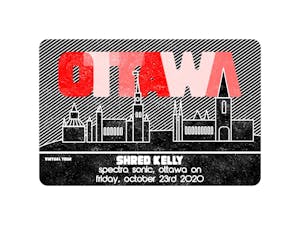 Shred Kelly - Virtual Tour - Livestream show
,
$0.00 - $20.00
Sales Ended
On Eventbrite
Shred Kelly Virtual Live Tour - Ottawa Facebook Livestream - Oct 23 at 10pm
Shred Kelly will be doing a cross Canada Virtual Album Release Tour of their new record 'Like A Rising Sun'. Since they can't physically go to some of their favourite venues, they will be doing a one hour performance on the facebook pages of some of the most beloved Canadian venues as they virtually make their way across the country. A portion of the proceeds will be going directly back to the venues that they love in an effort to #SupportCanadianVenues.
Each night they will perform a different set, so you can tune in to one or more of the shows without much repetition.
Tune in for a chance to collect all 10 unique postcards of the strangest album release tour they have ever done.
a portion of ticket sales supports spectrasonic
Venue Information: