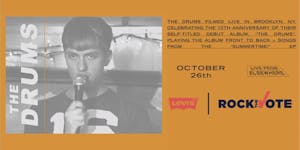 The Drums - 10th anniversary - Livestream show
,
$18.00
Sales Ended
On Noonchorus.com
The Drums plays The Drums & The Summertime EP front to back - Oct 26 at 9pm
Monday October 26 at 9pm ET
Tickets on sale now here: https://noonchorus.com/spectrasonic-the-drums/
A portion of the proceeds from ticket sales using our link benefits spectrasonic!
This year is the 10 year anniversary of my debut album "The Drums" and I wanted to celebrate with all of you by playing it live in person for you, but due to COVID I've decided to bring it live to your computer screen. For the first time ever, I'll be performing the first album from beginning to end and I've even thrown in all of the songs from the "Summertime!" EP. There will be exclusive merch* for sale and at the end of the show I'll be premiering a BRAND NEW SONG - 48 hours before its official release! I'll also be giving away a signed, red @Fender Telecaster that I used all over my records throughout the years. Anyone who purchases a ticket will be automatically entered.
Venue Information: