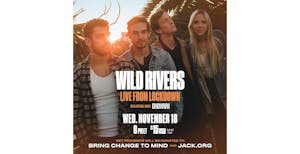 Wild Rivers - Live From Lockdown - Livestream show
,
$15.00
Sales Ended
On Shopify
Wild Rivers live from The Mod Club - Nov 18 at 8pm
Wild Rivers 
Live from Lockdown

with special guest Didirri
Date: Wednesday, November 18
Start time: 8:00pm ET
Tickets: $15.00 USD (incl. s/c) + taxes
on sale Friday Oct 23 at 10am here: https://wild-rivers-merch.myshopify.com/products/live-from-lockdown-ticket?ref=spectrasonic
a portion of the proceeds from ticket sales using our link benefits spectrasonic as well as mental health organizations Jack.org & Bring Change to Mind!
Join Wild Rivers for a virtual concert experience benefiting mental health organizations Bring Change to Mind (US) and Jack.org (Canada). In this never-before-seen performance filmed live at The Mod Club in Toronto, Canada, Wild Rivers shares brand new songs from their 2020 EP Songs To Break Up To, their brand new single "Pink Shades", and more. The evening will also feature a special guest virtual performance by Didirri.
Tickets go on sale Friday, October 23 at 10:00am ET, 100% of Wild Rivers' net ticket proceeds will benefit Bring Change to Mind and Jack.org, two organizations which are committed to ending the stigma around mental illness and providing programming for youth to better take care of their mental health, we hope you can join us: buy your tickets here.
Don't forget you can get your copy of Wild Rivers' brand new EP Songs To Break Up To today.

About Bring Change to Mind
1 in 5 people live with mental illness1, yet there continues to be a stigma associated with talking about mental health. Bring Change to Mind, a non-profit organization, is set out to change that. They create high school programs that facilitate discussion around mental health and amplify mental health stories, creating an atmosphere where students, and larger communities, can begin to understand, relate to and normalize mental illness. Bring Change to Mind strives to create a world where those living with mental illness are not having to live in silence, but instead have unbridled access to life's opportunities. Wild Rivers' new single "Pink Shades" embodies Bring Change to Mind's mission to not be afraid to talk about mental illness. The band is so excited to support them through this virtual concert's net ticket revenue.
About Jack.org
Suicide is still the leading health-related cause of death for young people in Canada. 1 in 7 young people in Canada report having suicidal thoughts to say nothing of the ones who don't report. This year, 150,000 will act on their thoughts by attempting suicide, and, for hundreds of them, the attempt will be fatal. A change has to happen and Jack.org is committed to empowering young leaders to revolutionize mental health. They are working to create a world where youth have the agency and tools to take care of their mental health, a world where if you need help you know where you can get it and you are not ashamed to ask. Depression is real, the consequences of someone not having anywhere to turn are dire which speaks to the heart of Wild Rivers' new single "Pink Shades". As a band, Wild Rivers finds it imperative to support the work of organizations like Jack.org to support those youth across Canada.
Venue Information: